| | |
| --- | --- |
| | |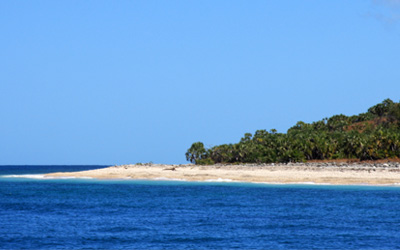 Valiha Island (Ile Valiha) is a privately-owned Paradise island in the Indian Ocean. Lying north-west of Madagascar in the Mozambique Canal, this desert island in the Radama archipelago is a unique piece of real estate ideally suited to a magnificent luxury hotel complex.

Valiha is an amazing island ringed with superb white sandy beaches, boasting a remarkable black pebble beach and a singularly beautiful mangrove swamp lending an enchanting, fairy-tale atmosphere to the spot.
Its crystal-clear tropical lagoon will enthral lovers of bathing and the laid-back life. The whole island is covered in a luxuriant profusion of wild tamarind, mango and banana trees, 'satraka' and coconut palms….

Its gently rolling hills would provide splendid sweeping ocean views (over 180°) for all the suites or residences of any potential hotel complex layout. And Valiha Island's scenery and 380 hectares (950 acres) would make it an ideal site for an outstanding 18-hole golf course.

Two fresh-water lakes are being created as a perfect addition to the existing natural waterfall. These lakes will provide a year-round fresh water supply for Valiha Island. Valiha has unique biodiversity, endemic to Madagascar, an impressive submarine 'aquarium'. Numerous species of coral, invertebrates and fish have been observed there. Among the most striking protected species are the Hump-backed whales (Megaptera novaeanglia, spotted off the coast (especially in July and August), during the calving and mating season before continuing their migration further north. In addition, 5 to 6 species of Turtles have chosen to lay their eggs on Valiha Island's eastern beach... This biodiversity makes it a simply unique and majestic place. In practical terms, Valiha Island is 105 km as the crow flies from Nosy Be (15 minutes by plane), which has an international airport with currently 5 international flights a week.

A landing strip for ATR 42 (40-seater) aircraft could be built, either on the island itself or alternatively, 4 km away on the Sahamalaza peninsula (Madagascar), with a transfer to Valiha by boat. Madagascar enjoys a tropical climate, divided into 2 seasons: summer and winter, the rainy season and the dry season. Madagascar is not Africa, subject to scorching temperatures. Valiha Island has an exceptional climate with 330 days a year of sunshine and some night-time rain (light rain, usually confined to the months from January to April), which means tourists are free to explore the island on foot or pursue various activities during the daytime.

In any event the climate is mild and warm all year round. The ocean temperature is between 26°C and 28°C in the summer, and varies from 22°C to 24°C in the winter. The owners of Valiha Island are seeking investors, real estate developers or a prime hotel group willing to invest in the luxury hotel business in Madagascar.

The current owners already have previous references in the construction of a similar project.